---
Skin analysis
45 minutes £20
A photographic image is taken to clinically measure the surface and subsurface facial skin conditions.
Using a state-of-the-art scanner, 3 separate lights will capture multi spectral photos to examine the complexion for lines, spots, pores, texture, bacteria photo damage, acne and pigmentation.
Suitable for all skin types, recommended at the beginning and during your skin care treatment journey, to assist the progress at all stages.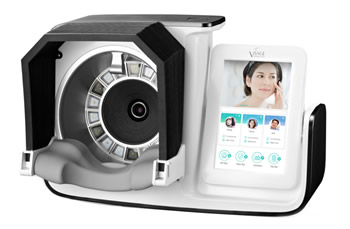 ---
Tea tree deep cleansing facial
45 minutes £35
A deep cleansing and refining facial using the antiseptic and antibacterial action of tea tree oil. Ideal for oily/acne prone skin.
---
Environ professional facial treatments
For skin care that makes the difference.
Environ's highly effective, preventative and restorative treatments are formulated to address the skin care concerns of the 21st century. By combining vitamins and electrical pulses and ultrasound, this advanced facial treatment boosts the penetration of the active anti-ageing preparations by up to 4000%
Electro-sonic Essential Treatments

Environ's pioneering dual electro-sonic technology sets the benchmark for professional skincare treatments.
Low frequency sonophoresis together with pulsed iontophoresis in combination with Environ's professional skin care products, help deliver more of what skin needs where it needs it most - making a real lasting difference to your skin, for life.
Electro-sonic Focus-On Treatments

Specially developed to target specifi c areas using Environ's revolutionary dual electro-sonic DF technology, ensuring that your primary skin care concerns are directly addressed. Perfect for when time is limited.
Cool Peel Treatments
Environ's unique Cool Peel© Technology is a non-invasive, intelligent skin renewal system developed by Dr Des Fernandes, to safely and effectively help refine, revive and brighten skin. Experience a real, lasting difference to skin through beautiful science.
For more information on the Environ range of treatments,
please visit our Environ page.
---
CACI-Environ duo super advanced treatment 
CACI-Environ duo super advanced treatment £90
Course of 5 (pay for 4 get 1 free) £360
A unique combination of the amazing CACI and ENVIRON skin care systems to provide the ultimate facial experience. For clients who don't know which facial is for them, this combines everything you will need in one treatment. Delivering unsurpassable results in anti-ageing non surgical treatments.
For more information on the CACI range of treatments,
please visit our CACI page.
---
Collagen Stimulation Therapy - micro needling
120 minutes £200
...incredible results without surgery
Unlocking your body's power of rejuvenation, Collagen Stimulation Therapy is a cutting edge treatment that harnesses your body's natural powers of healing to tighten skin and achieve incredible results.
It is especially effective for addressing the visible signs of ageing, as well as sun damage, scarring, slackened skin, stretch marks, uneven skin tone and dilated blood vessels.
Collagen Stimulation Therapy can be applied to all areas of the face and body and is suitable for all skin types.
We stock treatment packs available following treatment. Treating skin with vitamin A cream increases its thickness by 140% compared to 100% with needling alone.
---
Made for Life Organic
Your gentle route to beautiful, natural healthy skin. Catch your breath, relax and enjoy the mindful aromatherapy benefits of these treatments.
Uplift & Rejuvenate Facial

A natural Uplifting anti-ageing facial using nourishing organic oils, balms and specific massage techniques to tone, lift and stimulate. Reduces tension, improves the complexion and can soften facial lines leaving your skin glowing & rejuvenated.
Radiance Facial
An organic, cleansing and refreshing facial suitable for all skin types using organic oils and balms to nourish and return the natural balance to your skin. A beautiful way to restore natural luminosity to your skin, leaving you looking and feeling radiant.
Organic Beauty Boost Facial

Refresh your skin with this instant organic beauty boost that nourishes and brightens your complexion. Suitable for all skin types.
For more information on the Made for Life Organic range of treatments, please visit our Made for Life Organic page.